BIOGRAPHY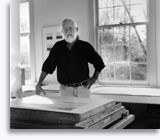 Keith passed away on December 12, 2006 from Pancreatic Cancer.
Keith was born in Madelia, Minnesota and grew up in Chippewa Falls, Wisconsin. He received a BFA from the Minneapolis College of Art and Design in 1966 and an MFA from Pennsylvania State University in 1970. In 1968, while in graduate school, he was drafted into the US Army and served in Vietnam, working as the Art Director of a Vietnamese language magazine published by the US for Vietnamese nationals employed by the Army. He was curator of the Art Center Gallery at the University of Wisconsin – Stout in Menomonie, Wisconsin for two years following graduate school and then taught printmaking and drawing for 14 years at the Atlanta College of Art. He moved to an 1840 plantation house on 100 acres in Meriwether county with his family in 1986 and built a studio to do his lithographic printing.
Keith's work has been presented in many important group and solo exhibitions throughout the US; his work is in major museum collections including the Brooklyn Museum, the High Museum of Art in Atlanta and the Minneapolis Institute of Arts. Many public and private collections, including IBM, Coca-Cola, Mellon Corp. and the State of Georgia, have acquired his lithographs.